Profile
Since 1970 our firm has provided comprehensive legal, tax and business advice. We focus on Investment, Corporate, and Business Law, (international) Contracts, and Real Estate.
Our clients expect solutions for complex legal, tax, and business issues. We strive to meet those expectations through high-quality services and we support our clients through all stages of their projects, from initial planning to final execution – and beyond.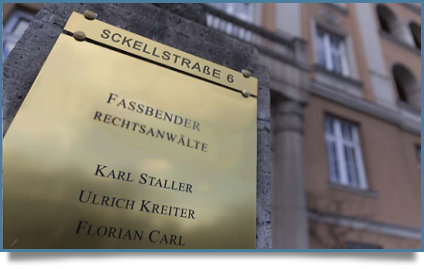 We have specialized expertise in Capital Investments (Investment Funds/AIFs, Asset Management companies/KVGs, Investment Offering documentation and prospectuses, Marketing and Sales operations). We are involved in the planning, structuring, and implementation of approval and registration proceedings for investment funds. For many investment fund projects our services cover all aspects of the enterprise, from initial sourcing and acquisition of assets and securing of investment capital and other finance through to the de-investment phase.
For more than 40 years our firm has supported clients with their investments in the US, Canada, and many other countries. Our clients benefit from our experience and knowledge in these different jurisdictions.
Since the formation of our firm we have shared offices with CPAs and tax advisers who also have many years of experience in advising individuals and companies in domestic and international matters (www.fidiaonline.de). We have in addition a well-established network with law firms, CPAs, and tax advisers around the world, with whom we cooperate when needed.